Our hostess for this week is Marilyn...take it away!
Happy Pin'Inspirational
..............................
Hope your week has been awesome and you are ready
to PARTY
and show off your amazing goodies this week! What
have you been up to? Care to share..? Thank YOU so
much for joining us as always!!!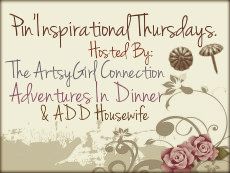 We can't thank any of you enough for your amazing projects and generosity in
sharing each week. It's always so encouraging and inspiring to see all you've been working on!!
........................................
* Top favorites

/

Most Viewed *
Take me to Paris With Love! Amazing and
sweet French Script Lamp Shade from the crafty
OH' so pretty designer candles.. Sooo outta this world shabby!!
A WONDERLAND Party Time..
We are SO inspired by these amazing soiree goodies!!
D I V E Down the rabbit hole with me!! I promise
No party would be complete without CAKE...
.........and to leave you with one last BRILLIANT something to lighten
up your day & sweet up those taste buds ~ a
............................
And now we can't wait to see what you
amazing folks are up to this week!
Little Teenie Party Rules To Please Observe
+ Please link your great projects - AS MANY AS YOU WANT!!
+ Please do follow myself and wonderful co-hosts Jane & Micki
+ Do snag a button if you are featured / spread the word...
Please link to an exact post so we can indulge in your featured creativity...
+ Tell a friend so they can join on in and be pin'inspired with us!
+Turning off word verification encourages others
to comment on your wonderful projects.

YOU HAVE THE RIGHT OF WAY TO P A R T Y!
Wishing You A HAPPY WEEK!!