I'm so excited to host this week's Pin-Inspiration Party! I was afraid I wasn't going to be able to make it, but that pesky hurricane turned another direction and we ended up with family evacuating to us!
..............................
Hope your week has been awesome and you are ready
to PARTY
and show off your amazing goodies this week! What
have you been up to? Care to share..? Thank YOU so
much for joining us as always!!!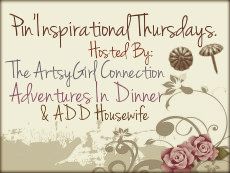 So many awesome projects this week. It's always so hard to choose...
There was no accident about
Accidentally Wonderful's White Chicken Enchiladas
I can
PERSONALLY
vouch for this recipe. I already made it and it was a huge hit!
I'm loving all things reusable right now. So these reusable food storage covers from
A Rose Sweet Home
really caught my attention.
My favorite book when I was a tween was Anne of Green Gables. Naturally, I immediately fell in love with
this dresser from Simply Vintageous
. I think she might be a kindred spirit.
And now we can't wait to see what you
amazing folks are up to this week!
Little Teenie Party Rules To Please Observe
+ Please link your great projects - AS MANY AS YOU WANT!!
+ Do snag a button if you are featured / spread the word...
+Please link to an exact post so we can indulge in your featured creativity...
+link back to our party, so others can find us later
+ Tell a friend so they can join on in and be pin'inspired with us!
+Turning off word verification encourages others
to comment on your wonderful projects.