Last year, I finally learned to can!
It was a huge deal for me since I was given a boiling water bath canner as a wedding present and hadn't ever taken it out of the box. We had moved it with us across several states...for more than 17 YEARS.
Canning was always something grandmas and well, "those moms" did. Not the perfect moms. The homeschooling moms whose children would never be socialized because all they did for school was clean house, work the family farm, and read to their children from trashy romance novels.
Yeah, I was pretty ignorant about homeschooling, too LOL
Now that I've been enlightened, I've embraced the whole "retro frugal" mom thing. Ok, there might not actually
be
a retro frugal mom thing, but there ought to be. Starting right ...
NOW
On a recent thrift store excursion, I found this vintage Southern Living Canning and Preserving Cookbook.
It was published AFTER I was born, so maybe it should be a Vintage Frugal Mom thing since I'm more than 25.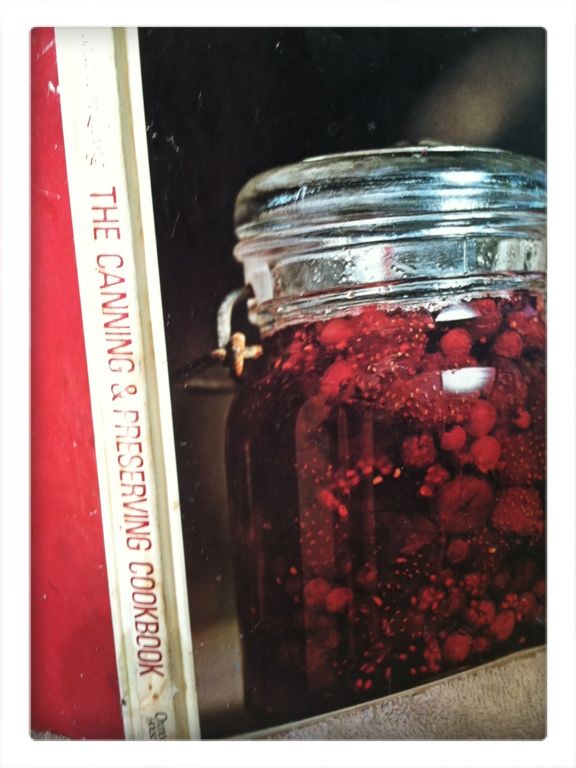 published in 1975
There's one big difference between this cookbook and the standard Bell canning book. . . This one recommends inversion canning for jams and jellies. Heck, it doesn't even mention inverting for jelly.
Inversion canning is basically when you get your lids and rings on really fast, then flip the jars over and the heat from whatever you're canning will set the ring on the lids. Then, we learned about germs and botulism, and now everything gets a boiling water bath. A few people still use inversion canning for jams and jellies, but the USDA says its naughty.
So, me being the rebel that I am, I decided to try it.
My test run of jars didn't seal so I had to do a boiling water bath anyway.
And, I also wasn't very good about skimming the foam:
foam-a-licious
Round two, I decided to make sure I got all the foam so I could have
pretty
jelly. Because we all know how important it is in life to make sure the jelly is pretty.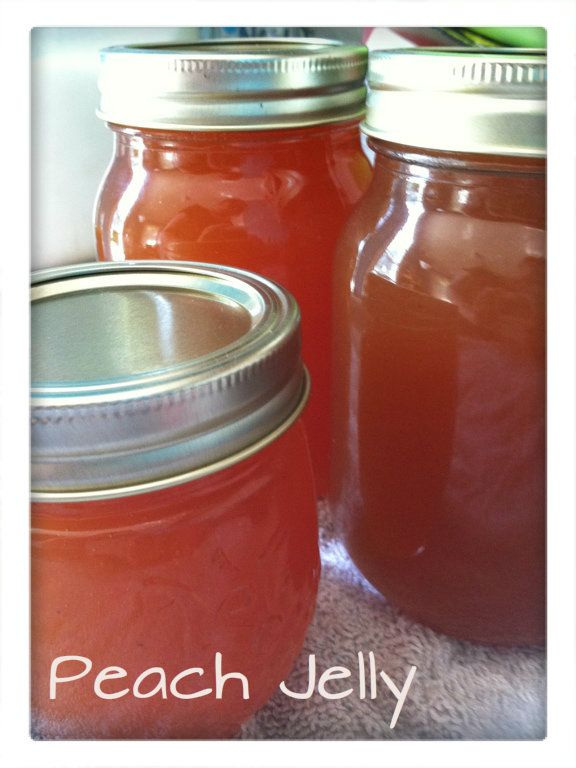 Oh My Gosh! What a difference skimming makes!
I admit it. I did a happy dance. It did make me feel better about myself and my mad homemaking skillz to have pretty jelly.
I know it's not perfectly see through, but that's because, as I mentioned before, I'm a rebel...and I didn't make fruit juice by boiling fruit and water. I used 3 1/2 cups of juiced fruit with no water added. It's thicker by nature and not clear. Peeling the peaches made no difference in the color of the juice.
We're down a full pint-sized jar in two days.
3 1/2 lb ripe peaches
1 box powdered pectin or 6 T pectin
4 1/2 C sugar
Juice peaches in a good juicer until you have about 3 1/2 C. Place in a large pot and add pectin. Cook and stir over high heat until it comes to a hard boil. Stir in sugar and bring to a rolling boil. Boil for one minute, stirring constantly.
Remove from heat and skim foam. I used a ladle for this step.
Pour into sterilized jars immediately, leaving 1/2 inch space at the top.
Place on lids and rings, then process in boiling water for 10 minutes.
Test seal in 24 hours. Reprocess if necessary.

linked up at:
Tasty Tuesdays
**
Too Cute Tuesday
**
Show me what ya got
**
Tuesday Time Out
**
DIY Dreamer
**
Whimsey Wednesday
**
Uncommonly Yours
**
Wow Us WEdnesday
**
Wow Me Wednesday
**
Your Whims Wednesday
**
Creative Spark
**
WEdnesday Whatsits
**
Show & Share
**
Homemade by you
**
Penny Pinching party
**
Handy Man, Crafty Woman
**
Create & Share
**
Wildly Original
**
Mom on Timeout
**
Creative Juice Thursday
**
creative things thursday
**
House of Hepworths
**
Creative thursday
**
Made U Look
**
Kitchen Fun with my 3 Sons
**
Here comes the sun
**
Recipe Sharing Monday
**
Mom's Library
**