The fair starts next week. The kids are very excited.
I decided to make a couple wreaths to enter in the crafting categories. Naturally, the little girls wanted to make something, too.
Punky Brewster and I hit the dollar store after school and picked up the needed supplies:
foam floral wreath
crepe paper
pumpkin cutouts
foam letters
Don't they look excited after finishing the wreath? Total happy dance!
And a total reminder that I need to finish pulling down the wallpaper!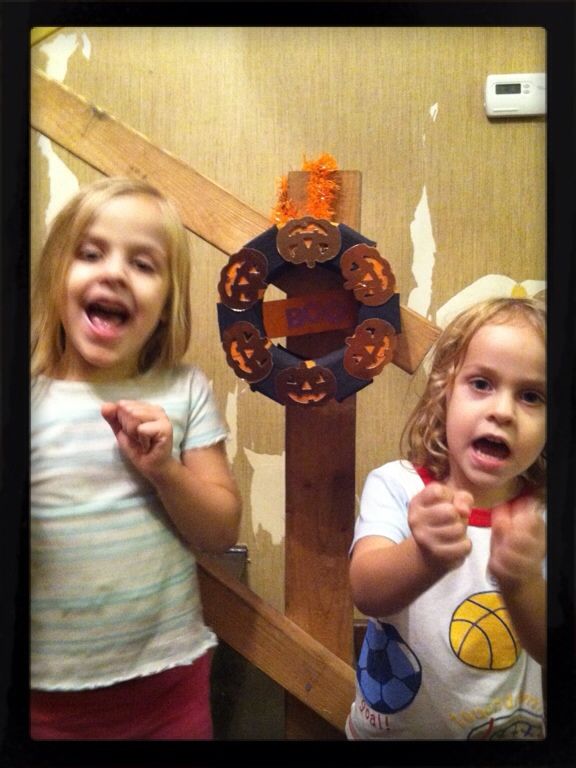 To make the wreath, wrap orange crepe paper all the way around. Hot glue it down. Cut strips of black crepe paper and attach it so it looks stripey.
Next, glue down the pumpkin cutouts on the orange. We tried it on the black,but the orange looks better. Little Miss said it looks like the pumpkins eyes are glowing.
Attach a strip of crepe paper to the back of the wreath and stick your foam letters on. Punky Brewster wanted a word she could spell herself. She's in kindergarten, so BOO was the winner.
Didn't Punky Brewster do a great job? Maybe she'll win a ribbon at the fair?

Linked up at
Busy Mondays
**
Mop it Up Mondays
**
Creative Me
**
Overflowing with Creativity
**
Motivate Me Mondays
**
Metamorphosis Monday
**
The Gunny sack
**
MMM
**
Tuesdays Treasures
**
Tuesday Confessional
**
Whimsy Wednesday
**
Homemade by You
**
WFMW
** Create & Share **
WORK IT WEDNESDAY
*
*handy man, crafty woman
**
House of Hepworths
**
Blog Stalking Thursday
**
Cheerios & Lattes
**
TAter Tots and Jello
**