Hey dolls! It's Jane from "Jane's Adventures in Dinner" and I'm thrilled to be 'up' this week to pick the amazing features from last week's party.
Zowie!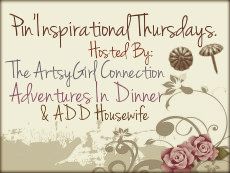 How much harder could you have have made it for me to choose?
After QUITE some deliberation I've narrowed it down to three.
Growing in Grace
makes me feel more than a bit ashamed of my closet right now BUT also has a great tutorial on how to fix it.
Do you struggle to get everyone (including yourself) out the door in morning?
One Creative Housewife
has THIRTEEN ways to help you out. I LOVE them all.
So, what have you been up to this week?
Can't wait to see.
Link up as many as you'd like just please remember to follow you hostesses, visit your fellow peeps and have fun!
Thanks again for visiting C: