My dry spell at the fair this year has finally ended in the cooking competitions and I finally won a ribbon! This recipe took second place among the soups. Yay!
I tweaked my quinoa soup a bit and managed to snag a second place ribbon for the effort. I was nervous the judges wouldn't go for quinoa. In the past, it's been all about comfort foods. This year, the judges seem to be "living on the edge" and going for unusual combinations and spice. And, props need to go to The Boy who suggested I add a bit of cinnamon because I couldn't figure out that certain "something's missing."
There were actually a few dishes that I preferred over mine, but I kind of love the idea of a cold soup made with avocados and beans. That particular soup would have tasted AMAZING as a garnish on my soup.
I love this soup because it's pretty much all pantry ingredients. Even though I had to grab the peppers at the store this time, they are usually available in my garden.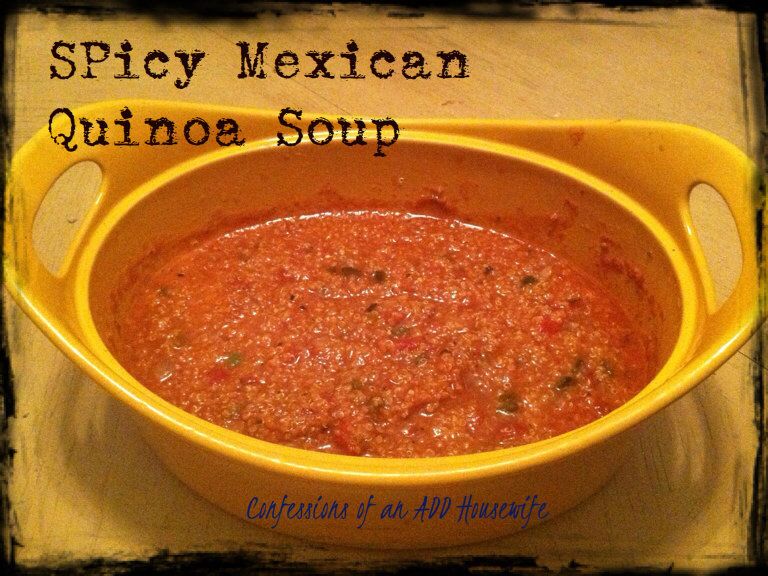 Spicy Mexican Quinoa Soup
4 C Chicken Broth
1 C quinoa (rinsed)
1 small can tomato sauce
2 (14.5 oz) cans fire roasted tomatoes
1/2 med onion, diced
5 cloves garlic
1 jalapeno pepper seeded and diced
1 pablano pepper seeded and diced
1 T chili powder
1 t cumin
1 t cinnamon
salt to taste
sour cream & cheese for garnish
In a large stockpot, saute onion, garlic, and peppers in a bit of olive oil until the onions are translucent and it smells amazing. Add in broth, quinoa, tomato sauce, fire roasted tomatoes, chili powder, cumin, salt and cinnamon. Cook over medium heat for 30-40 minutes.
Garnish with sour cream and cheese.
And, don't forget to join us for Iron Chef Mom next week. Secret ingredient: PUMPKIN!

Linked up at:
Fabulous Friday ** Keep Calm and Link Up ** Fantabulous Friday ** Frugal Friday ** Frugalicious Friday **Mop it Up Mondays ** Busy Mondays **Creative Me ** Cure for the Common Monday ** Motivate Me Mondays **House of Hepworths **Creative Juice ** Blog STalking Thursday ** :Link it Up Thursday **creative thursday **Foodie Friday **