The fair starts this week! The girls and I are getting our
thinking
chef hats on this week preparing for the dishes we're entering in the various contests.
And as everyone in the family knows, I'm fairly pie challenged...and a complete glutton for punishment as I keep entering the pie contest each year.
This time around, I'm sharing one of my "tester pie" recipes with you completely inspired by our Iron Chef Mom party! Our featured ingredient this week was APPLES. Perfect for fall :)
Don't forget, you can also participate in Iron Chef Mom each week by linking your recipe with the featured ingredient to the link party. Our hostess this week is
Mackenzie from Cheerios and Lattes
. You will also have a chance to
vote for your favorite recipe
from one of the Iron Chef Mom bloggers.
Candied Apple Pie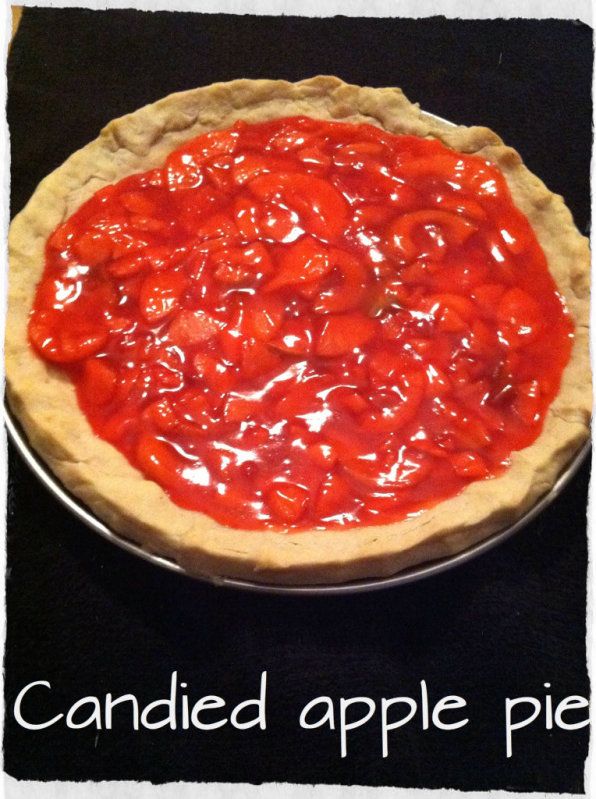 1 3/4 cups unsweetened apple juice
1/2 C cinnamon red hot candies
1/4 teaspoon red food coloring gel (use more of traditional food coloring)
1/2 teaspoon vanilla extract
5 Granny Smith apples
3 tablespoons cornstarch
1 (9 inch) pie crust, baked
Peel and core the apples. Slice thinly. I ran my apples through my apple peeler corer finger slicer. It made quick work of the apples.
Combine 1 1/2 c apple juice, candies, food coloring, vanilla, and apples in a saucepot. Bring to a boil. Simmer until apples are tender, stirring frequently. If you don't stir enough, the candies begin sticking to the bottom of the pot.
Combine remaining 1/4 cup apple juice and corn starch; stir into apple mixture, and cook until thickened. Remove from heat, and let cool.
Spread apple mixture into pie shell, and chill for several hours. Before serving, top with whipped topping and sprinkle with cinnamon if desired.
Iron Chef Mom Link Party!
The following blogs will be hosting the weekly Tuesday Link Party:

linked up at:
Iron Chef Mom
**
Cowgirl Up
**
TAsty Tuesdays
**
Too Cute Tuesday
**
Open Call
**
Take A Look Tuesdays
**
whimsy wednesday
**
wednesday whatsits
**
Handy Man, Crafty Woman
**
Work it Wednesdays
**
Back 4 Seconds
**
Creative Spark
**
Homemade by you
**
WILDLY ORIGINAL
**
Mom on Time OUt
**
house of hepworths
**
Creative Things Thursday
**
Fantabulous Friday
**
Keep Calm & Link Up
**