Happy Almost End Of The Week!
If you are in Canada you'll also be getting ready to have a long, Thanksgiving weekend.
Hello, Turkey!
Mine is nestled in freezer waiting for its big day on Monday.
How about you?
I know that my weekend is going to involve some of the awesome ideas that you folks shared from last week.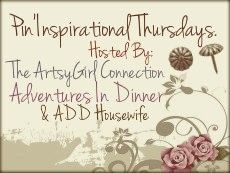 What are you going to make from last week?
I particularily loved;
This amazing banana cake is going to make a certain husband that I know VERY happy. Thanks to
Crazy For Crust
I also want to get some of my Hallowe'en goodies out while I have a bit of extra time. Small one is so excited about it this year and has already picked out a princess costume (I know-SHOCKER).
The
Crafty Blog Stalker
has created the most awesome pumpkins-I think even I can craft these bad boys.
And is
The Farm Girl
not the cleverest girl ever?! Yep, she somehow made Rice Krispie Squares even better (did.not.think.that.was.possible.).
Must have. Like the whole pan. By myself.
So now let's see what you've been up to, I'm ready for some new stuff to have fun with.
A couple of things that myself and my lovely hostesses want you to know:
1) please follow all of us-spread the love
2) link up as many projects as you would like
3) please only link your projects and not your businesses-there are lots of other super cool parties for that
4) please grab a button if you are featured and a button to spread the word about our party C: