Welcome to another round of Iron Chef Mom! Our hostess this week is Kristi from
I Should Be Mopping the Floor
and our secret ingredient? Pumpkin!
Like many of my kitchen exploits, I start to make one thing and end up in a completely different direction. As soon as I cut in to the pumpkin to roast it for my recipe, the kids were begging me to roast the pumpkin seeds.
And I couldn't just do the regular seeds with a bit of salt...I wanted chocolate.
So I mixed up a batch of this delicious topping and tossed my seeds. Then roasted in a 350 oven for 20 minutes.
Super yummy. Fast...and dare I say...healthy? It's a quick fix for those times when you want something crunchy, but sweet. Too bad pumpkins aren't available year round for this, right?
My kids are pretty happy we have four pumpkins on the porch awaiting carving... And more of these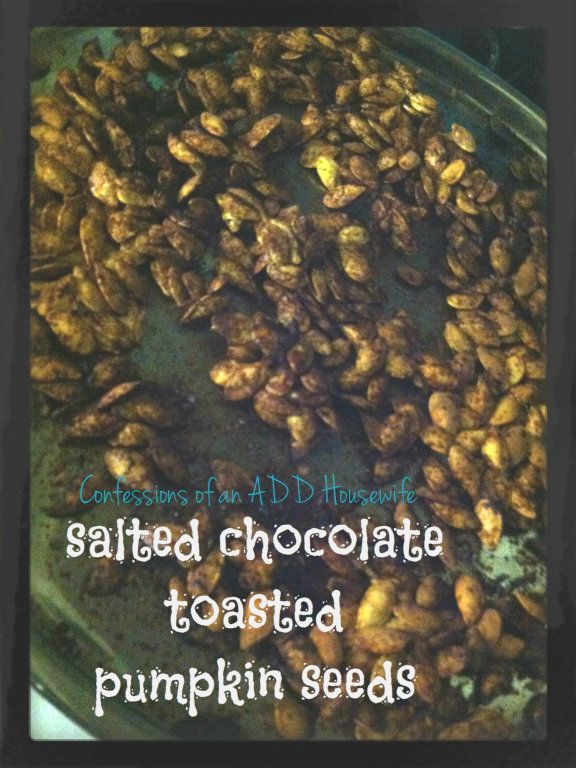 Salted Chocolate Toasted Pumpkin Seeds
Seeds from one pumpkin, guts removed but not perfectly clean.
1 T sea salt
2 T sugar
2 T cocoa powder
Mix together in a bowl. The pumpkin seeds should be moist. This will help the flavors to stick better. Spread on a lightly greased cookie sheet. Roast in 350 oven for about 20 minutes, until they begin to pop in the oven. Cool completely.
Don't forget to link up your pumpkin recipe at the Iron Chef Mom link party!

linked up at:
Iron Chef Mom **Show Me what you got ** project queen ** cowgirl up ** Tuesday Treasures ** Too Cute Tuesday **Tuesday Confessional ** Open Call **Whimsy WEdnesday ** Wow Us WEdnesday ** Homemade By You ** Create and Share ** Back 4 Seconds **Wildly Original ** Your Creative Time Out ** House of Hepworths ** Blog STalking Thursday **creative thursday **Fabulous Friday ** Keep Calm & Link Up ** Fantabulous Friday ** Kitchen Fun with my 3 sons **Tater Tots & Jello ** cheerios & Lattes **Foodie Friday **