This week on Iron Chef mom, we're talkin' Cinnamon! YUM! This week's party is being hosted by Camille at
Growing up Gabel
. Head over there to link up your favorite cinnamon recipes and see what everyone else has to offer.
For the last few weeks of Iron Chef Mom, I've been offering up all sorts of sweets. And, it's time for that to change...sort of.
One of D's favorite recipes growing up was his mom's cinnamon apple pork loin. It's total comfort food. The recipe for the apples was originally found in one of the old Better Homes and Gardens cookbooks. The one that I had until it fell completely apart and I replaced it with a new one...not realizing the new book didn't have many of my old favorite recipes.
Completely tragic.
My MIL cooks a lot like I do...a little of this and a little of that...magic happens.
Time to get creative and come up with my own version of my MIL's recipe... it's actually a bit of a twist on the classic pork chops and apple sauce.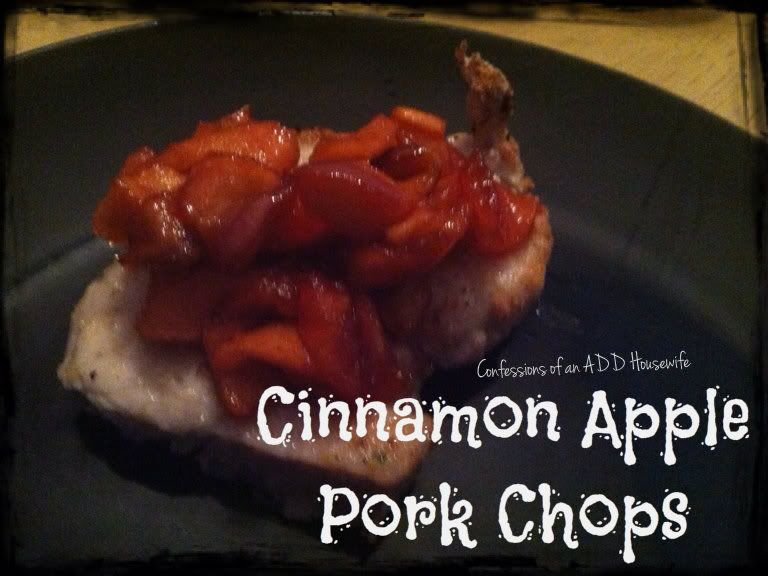 Cinnamon Apple Pork Chops
2 T butter
4 apples pealed, cored and sliced
1/3 C cinnamon red hots
1/4 C brown sugar
1/2 C water
4 pork chops (about 3/4 inch thick)
salt and pepper
In a skillet, melt butter over medium heat. Add apples and cook about 5-8 minutes. Add cinnamon red hots and brown sugar. Stir constantly until candies begin to melt and apples turn red. Deglaze the pan with 1/2 C water (using more if necessary) and keep cooking until the candies are completely melted.
Meanwhile, place the pork chops on a baking sheet. Sprinkle with salt and pepper. Raise the oven rack to highest position and broil the pork chops for 10 minutes. Flipping once after about 5 minutes.
Once the chops are done, pile the cinnamon apples on top and enjoy :)

Linked up at:
Iron Chef Mom
**
Show Me What You Got
**
Tuesday Confessional
**
Tuesday Treasures
**
Open Call
**
Cowgirl Up
**
Back 4 Seconds
**
Creative Juice Thursday
**
Mom on Timeout
**
Seven Alive
**
house of hepworths
*
*fabulous Friday
**
Keep Calm & Link Up
**
Fly on By Friday
**
Frugalicious Friday
**
Fantabulous Friday
**
tater tots & jello
**