There's a story in my husband's family lore that goes something like this:
One Thanksgiving many years ago, a can of cranberry sauce was purchased. The can was opened and placed on the table in all it's round jiggly goodness. It sat in the center of the table and no one asked for it. The next year, the same thing happened.
After many years of this, my mother-in-law had enough of the wasted cranberry sauce. But, Thanksgiving isn't Thanksgiving without cranberry sauce. Being a creative and resourceful woman, the next Thanksgiving she purchased the can of cranberry sauce and did not open it. Instead, it sat unopened on the table. The next Thanksgiving, the same can came out of the food storage and, like a much love centerpiece, graced the middle of the table.
Legend has it, that same can of cranberry sauce still makes it way to the center of the table each year.
The moral of the story? Friends (and family) don't let others eat canned cranberry sauce.
I'm really the only one in my family that likes it. I make a nice batch of homemade sauce each year. Just enough for the big day and for leftover turkey sandwiches.
So for this round of Iron Chef Mom, I selected CRANBERRIES as my inspiration ingredient. BTW: I'm hosting this round and you can
link up YOUR recipes HERE.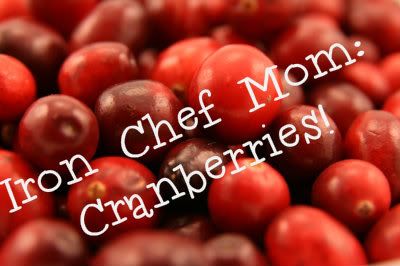 Image courtesy of James Barker http://www.freedigitalphotos.net
And my recipe? It's a little bit off the beaten path.
During the last part of summer, I visited a local farmer's market and a woman was selling jams and jellies, including a cranberry jalapeno jelly. This was my first taste of the sweet and savory jelly that's best served over cream cheese on a cracker. It's one of my favorite late night snacks.
Wish I were a better food photographer!
Cranberry Jalapeno Jelly
4 Jalapeno peppers, whole
2 cups whole cranberries
1 cup white vinegar
5 cups sugar
1 bottle liquid Pectin (3 oz)
Rinse whole cranberries and drain to remove excess water.
Trim Jalapeno pepper caps and tops, then slice lengthwise and remove all seeds and inner membranes. Discard tops, seeds, and membranes. Chop pepper halves.
Grind whole cranberries to a pulp with the food processor or grinder. Add 1/8 cup water to moisten the pulp slightly. Add chopped peppers and pulse or grind. (I used the coarse chopping blade of a food processor.)
Spoon the cranberry and Jalapeno pulp into a stainless pot. Add vinegar and blend. Slowly cook mixture for 10 minutes to blend flavors, then add sugar all at once, stir until dissolved.
Cook the jam mixture, stirring constantly, until sugar is completely dissolved and boils. Once the jelly mixture bubbles and the top foams, rising significantly, add the liquid pectin. Boil hard for 1 minute, no longer.

Remove pot from heat. Ladle jam into sterilized half-pint jars, to within 1/2-inch of top. Add sterilized caps and screw rings on. Process in water-bath canner for 10 minutes.
Yield: 6 half-pints.

linked up at: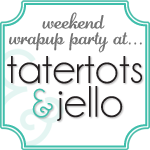 Iron Chef Mom
**
Cowgirl Up
**
Tuesdays Treasures
**
Open Call Tuesdays
**
Take A Look Tuesday
**
Show Me What You Got
**
Whimsy Wednesday
**
Wow Us Wednesday
**
The Creative Spark
**
Your Whims Wednesday
**
Spotlight Saturday
**
Create and Inspire
**
Overflowing with Creativity
**
cheerios and lattes
**