Some of my favorite holiday projects are ones that take normal holiday decorations and take them up a notch.
Like your standard strand of Christmas lights...boring and ugly wire. Who wants that displayed on the mantle?
This is one of those holiday crafts that make my home just feel ready for Christmas. It's simple and there's no sewing involved. Just a few basic supplies and should cost less than $5. And it gives your strand of lights on the mantle a real WOW when it's all lit up...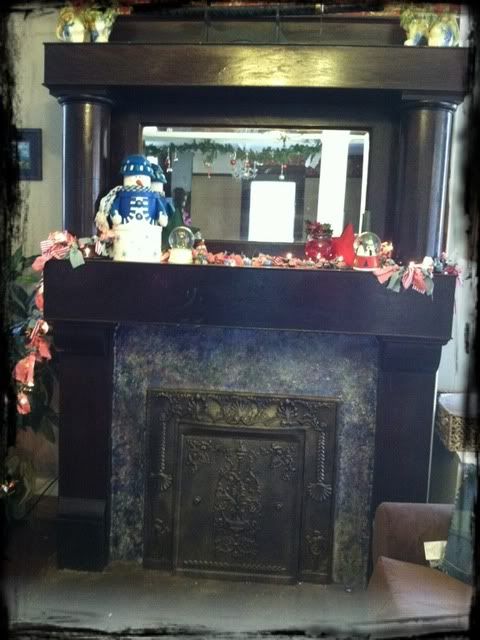 Mine, not all lit up...but hey it was my first attempt at a holiday mantle
And here it is up close...all pretty and sparkly...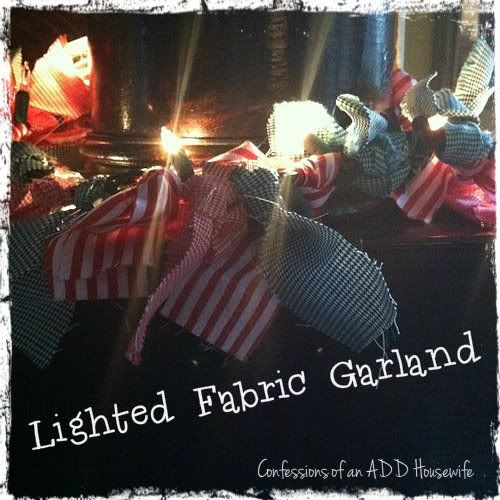 Materials:
minimum 50 light strand (if you do 100, fold it in half)
Scrap fabric in 3 holiday colors/patterns (about a fat quarter of each)
Cut the fabric scraps in to strips approximately 1.5 inches wide by 5 inches long. You can do this as you go or cut them out ahead of time.
Tie the fabrics on to the strand of lights, either as a knot or folding the fabric in to a U shape looping the two loose ends through the closed end of the U.
Use a repeating pattern or random, it's really up to you.
I love the project so much, I've done it in many different colors to suit my holiday palette for the year. Enough of these that I took it another direction this year...I'll share that project later :)

Linked up at:
House of Hepworths ** Wildly Original ** Creative Juice ** Crafty Blog Stalker ** Your Creative Time Out ** Link it Up Thursday **Creative Thursday **I freaking did it ** fabulous fridays ** Fly on By Friday ** keep calm and link up ** Frugal Friday ** frugalicious Friday ** kitchen fun with my 3 sons **create and inspire ** cheerios and lattes **Busy Mondays **Debbie Doos ** Cowgirl Up ** Take a look Tuesdays**
Whatever Goes ** Handy Man Crafty Woman ** Home Decor & Organizing **//