I'm about to share my favorite secret ingredient ...
It's one you probably have sitting in your refrigerator right now.
And you probably use it most days. I don't use it at all for what it was intended for...because I don't drink coffee.
My secret?
Flavored coffee creamers.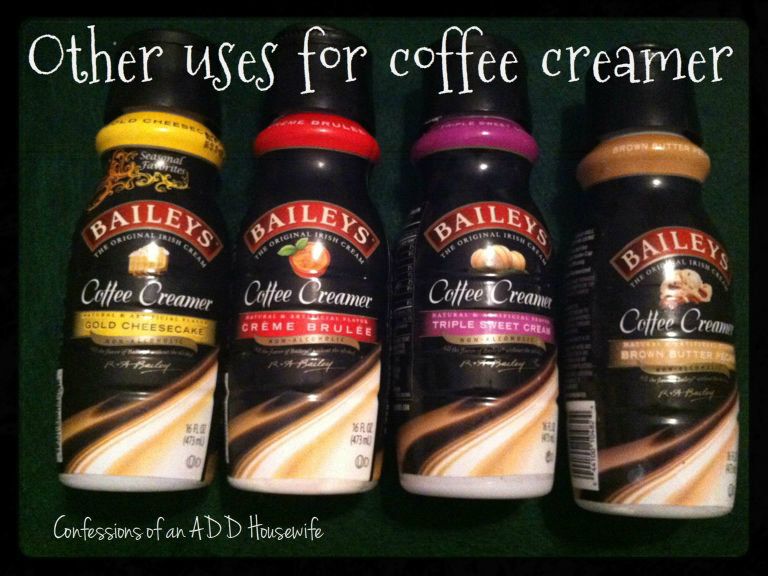 When a recipe calls for milk, I add in the creamers instead. It gives it a nice little flavor twist. The great part is, these go on sale enough that I can keep a stockpile for just pennies. I picked up the Bailey's Creamers two weeks ago for 15 cents EACH!
It's absolutely dreamy in
hot chocolate
. It's like being able to get all those fancy schmancy hot chocolate flavors without having to buy the expensive hot chocolates or the expensive syrups.
Powdered Sugar Ic

i

ng.
Yeah...just a bit of extra flavor right into that powdered sugar, butter and
milk
coffee creamer icing.
Oatmeal.
I love to have a bit of milk in my oatmeal. And let's face it, plain stove top cooked oatmeal is quite a bit cheaper than the instant stuff.
French Toast.
This has to be my personal favorite. Just replace the milk in the french toast with the creamer. The extra flavoring isn't overpowering, really just a hint of sweet.
PS...Be sure to come back Tuesday for the next round of Iron Chef Mom...hosted RIGHT HERE! The secret ingredient is
CRANBERRIES
! Just in time for Thanksgiving! Friends don't let friends serve canned cranberry sauce ;)

linked up at:
tater tots and jello
**
Create and inspire
**
cheerios and lattes
**
Busy Mondays
**
Debbie Doos
**
Mop it Up Mondays
**
Marvelous Mondays
**
Saturday Spotlight
**
Open Call
**Whimsy
Wednesday
**
Wow Us Wednesday
**
The Creative Spark
**