♥♥♥♥Don't forget to
enter the giveaway for a FREE Pie
From Edwards Desserts! ♥♥♥♥
With me working in the evenings, dinners have become a bit chaotic. I leave for work usually around 4 p.m. which coincidentally is about the time D gets home, as well. We do a quick car swap and off he goes to pick up kids from school and I head off to work. He's left to himself to manage dinner, homework, chores, and his own grading papers each night.
It's very easy to end up sleeping into convenience food mode, which isn't good for our health or our budget.
Instead, I do a lot of make ahead meals, crockpot cooking or quick and easy meals like this one for Korean Beef. I stumbled on it on Pinterest.
The first time I made it, I took a bite and knew I was in trouble. The good kind of trouble where I have to triple a recipe because everyone in the family is going to want seconds.
It's super fast and easy. Tasty. Affordable. Kid friendly. It's like the Holy Grail of last minute meals.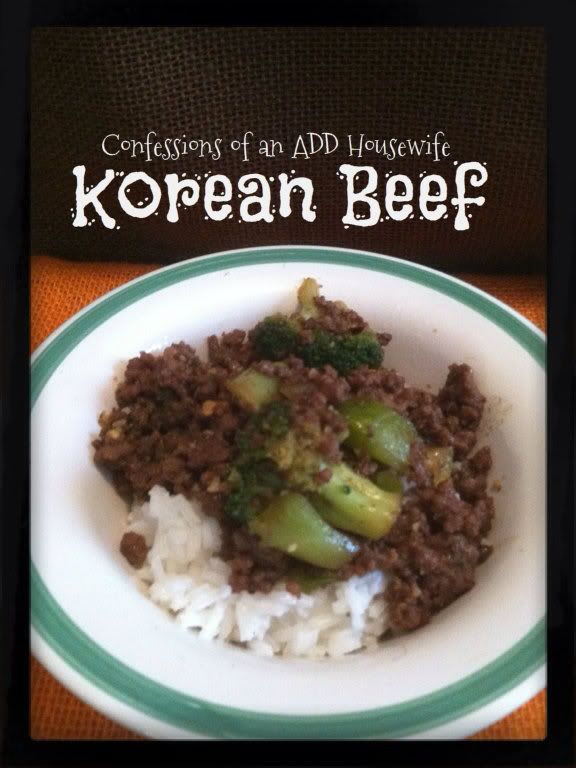 one day my food photos will look awesome. until then...
Here's the link to the
original recipe
...and I've included my extra veggified version below.I can't help but add extra vegetables to something like this. And, I
cook my rice in the crockpot
, so I can just start it when I have time and it's ready for D when he gets back from picking up the kids.
1 pound lean ground beef
1/4 - 1/2 cup brown sugar
1/4 cup soy sauce
3 cloves garlic, minced
1/2 teaspoon fresh ginger, minced
1/2 - 1 teaspoon crushed red peppers
8 oz bag frozen broccoli (about half a bag or one box. A medium sized head if you are using fresh)
salt and pepper
1 bunch green onions, diced

Heat a large skillet over medium heat and brown hamburger with garlic. Drain meat. Add brown sugar, soy sauce, ginger, salt and pepper and red peppers. Add in broccoli. Simmer. Serve over steamed rice and top with green onions.