Dear Blogging Friends:
This week we aren't going to have any features. Instead, we ask that you remember those who lost their lives in Newtown, CT last week:
Charlotte Bacon, 6
Daniel Barden, 7
Rachel Davino, 29
Olivia Engel, 6
Josephine Gay, 7
Ana Marquez-Greene, 6
Dylan Hockley, 6
Dawn Hochsprung, 47
Madeline Hsu, 6
Catherine Hubbard, 6
Chase Kowalski, 7
Jesse Lewis, 6
James Mattioli, 6
Grace McDonnell, 7
Anne Marie Murphy, 52
Emilie Parker, 6
Jack Pinto, 6
Noah Pozner, 6
Caroline Previdi, 6
Jessica Rekos, 6
Avielle Richman, 6
Lauren Rousseau, 30
Mary Sherlach, 56
Victoria Soto, 27
Benjamin Wheeler, 6
Allison Wyatt, 6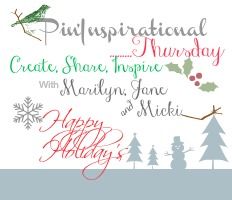 Please remember these rules for the party:
A couple of the usuals here:
♥grab a button to spread the word about our party and a button if you are featured.
♥And most importantly: please, please visit lots of folks and spread some bloggy love.
♥ Turning off captcha means people are more likely to comment!