Today was horribly cold. We actually had wind-chill. When I took my kids to school this morning it was 37 degrees.
Stop laughing!
That's cold!
OK, not as cold as where
I went to college
which boasted a high of 17 and a low of -7 today. I know cold. Believe me, I know cold. I lived in Colorado for 7 years, Idaho for 2 years and 2 years in Utah. I've experienced temps frigid enough to cause the snot in your nose to freeze.
This is why I don't live in a place where it is supposed to get cold. Sunday it was 80 degrees, for crying out loud! Today? The forecast called for SNOW! It didn't but still...
That meant no park for Little Miss. She didn't get any playground time at preschool.
When the weather is completely miserable, it's time to break out the big guns: arts and crafts.
We do plenty of arts and crafts, but today was special because I let her paint with my paints and not just her finger paints.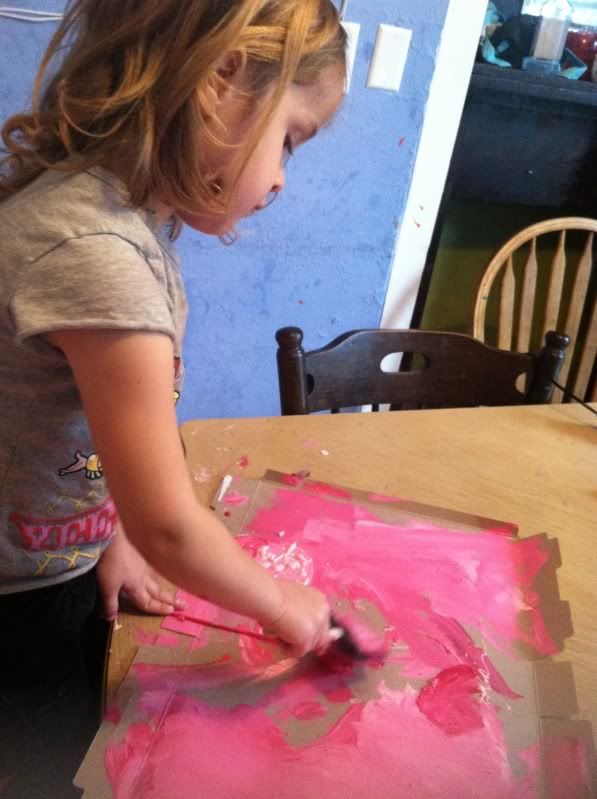 We are going to be making some sort of yet-to-be-determined Valentine craft and she needed to paint all over the broken down cereal box.
She made a huge mess of herself but she was so intent on her project...it almost looks like an ombre, doesn't it?
Maybe she took a her design ideas from this project...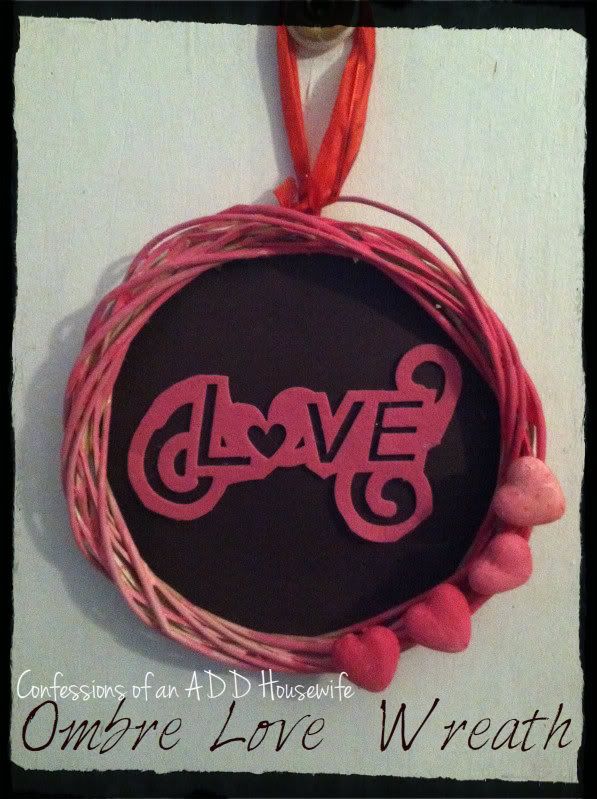 This lovely wreath was my creation during our arts and crafts time today! I painted a very boring wreath from the dollar store in shades of pink. I also used those same shades of pink to paint some really ugly foam hearts on a stick (sticks removed) that I also snagged at the dollar store.
I wasn't sure what to put in the middle. I toyed with several ideas. The LOVE is cut out from a much larger felt piece, also picked up from ... you guessed it, the dollar store. When I put the felt piece in to the wreath...
Ugh
You know that line in Steel Magnolias where M'Lynn says the church looked like it was hosed down in Pepto Bismal?
It was like that, only not as nice.
I reached in to my scrapbooking supplies and pulled out a piece of dark BROWN cardstock and glued it to the wreath. Next, I cut down the very large LOVE to where just the words were left...and well... the results are quite nice.
I wish the brown showed better on my camera. I adore the pink and brown combination.
This project cost me a grand total of... $3 plus supplies I already had lying around the house....and I had a happy preschooler working with me!
That's enough to warm my heart and take out the chill of that horribly cold weather. And, in case you're wondering, it's supposed to be back in to the 60s by the weekend.
And even though many of you are hating me for our southern weather,
please remember to enter the giveaway to win this cute apron
!
And, also don't forget about Iron Chef Mom! Next week's ingredient is VANILLA! The party happens Tuesday!