When I had my bridal shower all those many years ago, my friend who hostessed it made this wonderful fruit dip. At the time, I asked for the recipe and in my wedding clouded mind, I completely forgot it.
Over the years, I've wanted to make that fruit dip again, but I could only remember one ingredient...marshmallow fluff.
For whatever reason, I never tried to google the recipe. In fact, when my friend and I reconnected on facebook, the thought of asking her for the recipe never really occurred to me.
Fast forward to New Year's and we're visiting my SIL in Ohio. I mention I want to make this fruit dip and of course she knows exactly the recipe I'm looking for! It's just three ingredients and goes together in a flash...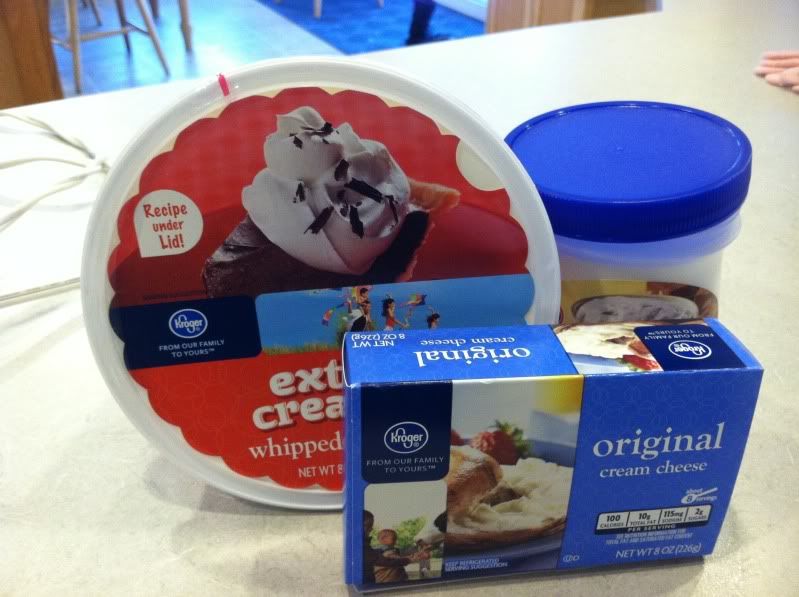 First step is to bring the cream cheese to room temperature. This amount of time my vary. Where I am...it'll be about two minutes. If you live somewhere cold...it will take longer than this. If you don't bring it to room temp and say...not really follow the proper instructions and toss all the ingredients together, you may burn out the motor in your sister-in-law's mixer.
Just tossin' that out there.
1 brick cream cheese
1 small container cool whip
1 jar marshmallow fluff
Bring cream cheese to room temp. Whip. Mix in jar of marshmallow fluff. Fold in cool whip. Chill 30 minutes before serving
It's just that easy. And tasty. I love it with nice, tart Granny Smith apples.
And...drum roll...
Iron Chef Mom will be back on January 14 and our ingredient is TOMATOES!
I'm really going to have to put my thinking cap on for this one since I'm not a huge fan of tomatoes unless it's in caprese or marinara. Don't forget to link up your own TOMATO recipe!

linked up at:
Creative Things Thursday
**
Show off your stuff
**
catch a glimpse
**
seven alive
**
Weekend Wonders**
Keep Calm & Link Up
**
Kitchen fun with my 3 sons
**
Frugalicious Friday
**
Fantabulous Friday
**
Frugal Friday
**
pinterest powe
r **
six sisters
**
create and inspire
**
cheerios & Lattes
**
power of pinterest party **
Foodie Friday
**
Sunday Scoop
**
Marvelous Mondays
**
Frugal Crafty Home
**
Martha Mondays
**
Mop it Up Mondays
**
Mix it up Mondays
**
house of hepworths
**