Wood paneling. The stuff of the 1970s. The only thing worse than wood paneling is wallpaper. Or...how about wall paper covering up wood paneling.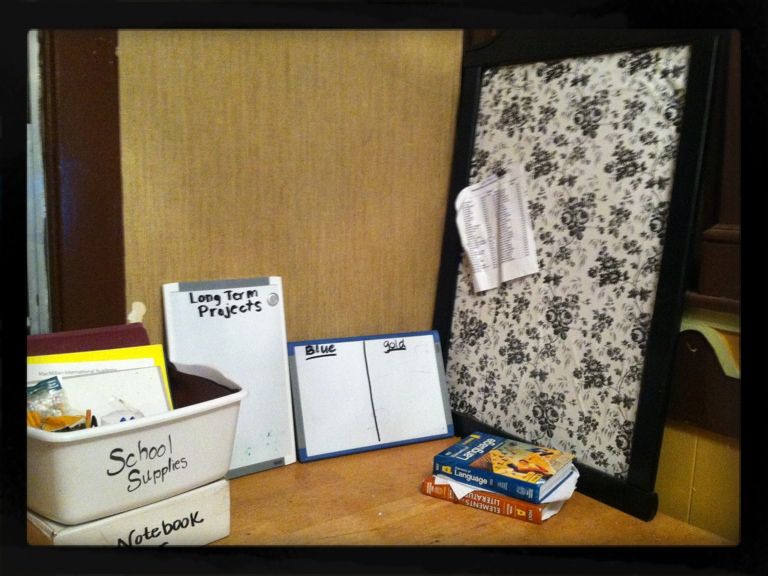 I didn't so much mind this wallpaper. It had a kind of natural feel to it. But look down there in the lower right corner ...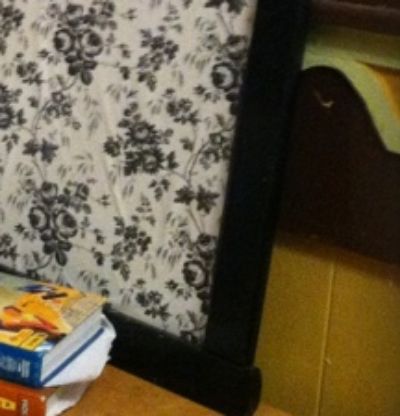 That would be wood paneling painted mustard yellow. And that's what was hidden under the wall paper.
It would have been fine except for little fingers that found a tiny piece of the wallpaper and decided to pull...And I ended up with a very ugly rip tear in the somewhat acceptable wallpaper.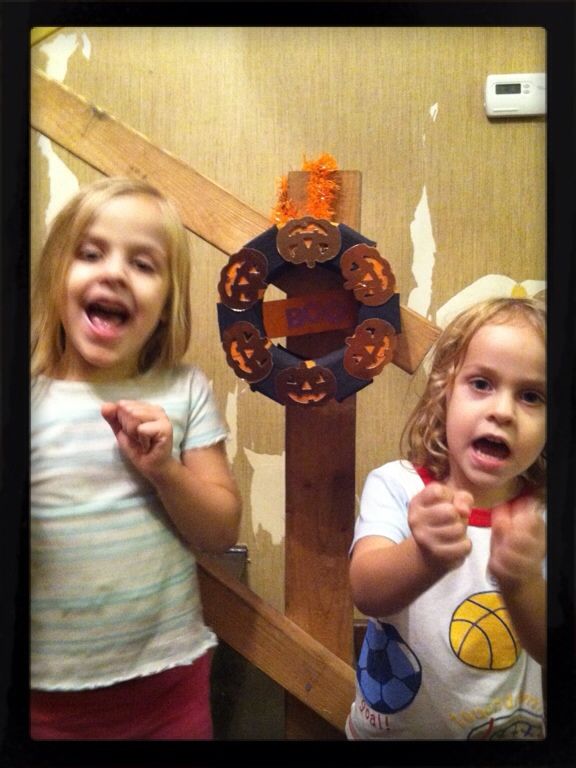 This all led up to one evening D being sick of it and pulling all the wallpaper off the walls, leaving me behind to scrape it all off. Good times.
I really didn't want wood paneling. But I was also afraid of what was behind the paneling. We've discovered with a house this old, that if they covered it up, there's probably a good reason for it. I didn't want to pull the paneling down and find the plaster walls in far worse shape and creating a lot more work for myself.
When I decided to fill in the wood grooves, D told me it couldn't be done. Funny, because two moves ago, he also told me wood paneling couldn't be painted. There are a couple of methods to filling in the grooves. You
could
use wood filler but that would be a very expensive way to do it.
Instead, the best option is joint compound.
Prep the walls first, by using a primer.
If you're starting on the glossy wood that has never been painted before, I'd recommend an oil based primer. It will adhere better. After priming the surface, the messy fun begins.
With the putty knife in hand, begin filling in the grooves with the joint compound. Just like when applying to actually drywall, do thin layers. Fill it in, scrape off. Do one layer, then let it dry for 60 minutes. Then...another layer. Let it dry again for 60 minutes. At this point, it will look like you're set and the grooves are almost gone. Don't let it fool you...do another pass of the joint compound.
That's right, THREE layers.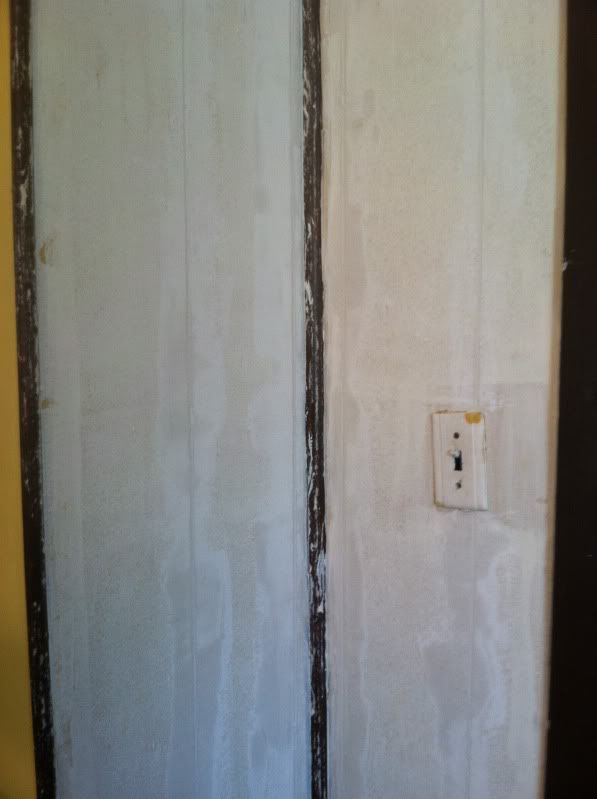 Next, use a fine grade of sandpaper and
smooth out the walls
. If you're like me, you'll have ended up with chunks of joint compound stuck in odd places.
Prime the walls again
. This will seal in the joint compound.
I didn't mind getting the primer on the trim because that brown painted trim is going away very soon.
After the primer has had time to cure, you're finally ready to paint! Happy dance!
It took me quite a bit of time to pick the color for the room. I knew I was going with something from
Sherwin Williams Color Pizzazz
collection. Sherwin Williams was gracious enough to provide me with the paint for this project. I love the HGTV Home paint so much. I've used it all over my house even before this. I can't wait to show off the big reception hall reveal so you can really see how these colors shine together!
From the Sherwin Williams website:
"Each collection highlights 20 colors that are designed to work beautifully together in any combination. All you have to do is choose the designer-inspired look you want to achieve from themes like Coastal Cool, Rustic Refined, Color Pizzazz, and more. It's a foolproof way to create a cohesive look- in any one room or room-to-room."
In the picture above, you can see my favorite yellow...
June Day
, also from the Color Pizzazz collection. It's just the right yellow....not school bus and not mustard. Yellow is a color that's hard to get just right...as evidenced by the yellow disaster this room started with!
I ended up going with a great neutral for the walls:
Mindful Gray
. I used it in my living room and since the reception hall and the living room are separated only by columns, keeping the same color on the walls seemed like the best idea.
The best part now is that it looks like I have nice normal flat walls instead of tacky wood paneling! It's a total win!
This project is very easy. The worst part of it being the hurry up and wait. It took me a lot longer than I had wanted because of horrible rains and super high humidity levels. It was like February in Seattle. And I live in Alabama....where February is usually like June-uary in Seattle. . . cold, overcast and miserable but not terribly rainy. All the rain made me a teensy bit homesick.
It was really hard finding pictures to show off this project without showing you the other really awesome stuff that's not done yet!
And some of those projects are going to have to wait because another set of storms is heading our way and ...D and I are taking our lives in to our own hands and going on a cruise next week. Wish us luck...and no engine fires!

linked up at:
Mop it up mondays ** busy mondays **Marvelous Mondays ** frugal crafty home **Monday Funday **project inspired ** show me what you got ** cowgirl up ** Salt Tree Social **whimsy wednesday ** winter blues ** wow us wednesday ** show me what ya got **house of hepworths ** wildly original ** creative juice ** crafty blog stalker ** your creative timeout ** keep calm and link up ** tater tots and jello ** cheerios and lattes ** weekend wonders ** create and inspire ** six sisters stuff **